A.I.Tech presents the first integrated video analytics solution completely made in Italy to meet all the needs that arise in a sales activity.
"If you cannot measure it, you cannot manage it. And then you cannot improve it".
This is the statement that we often hear from retailers, whose goal is to improve sales performance of its business. Obviously it is essential to know your customers to make this happen.
The A.I.Tech of video analytics solution helps retailers to know the customers who crowd its business: what has been the influx of customers during the last year? What was the day when there was the most crowded? Where did customers stop in the shop? What was the most important product? How many men, how many women have entered? What is the age range that is most attracted to the sales area? And what in that specific exhibitor? How long do people stand in front of the shelf, in front of the showcase or in front of the monitor? And how long have people had to wait on the queue on average?
These are just some of the questions that A.I.Tech's video analysis products can answer. Let's find out in detail.
AI-People is the video analysis module that can be used for those areas in which there is a transit zone or a gap in which it is possible to associate a virtual crossing line (for example in the proximity of a door, a corridor or a turnstile). In fact, AI-People performs the counting of people crossing that line in a certain direction.
It is not always possible to identify a transition and count the people passing through it. Where there is an area within which the person may remain stationary or move in slow motion, creating also queues; in this case the video analysis plugin that can be used is AI-Crowd, which allows the estimation of the number of people present within one or more areas of interest. This can also be used in those areas where situations of overcrowding happen to evaluate a queue at the cash register, rather than to estimate the number of people who stand on average in front of an exhibitor.
AI-Heat is the video analysis module that classifies the areas of the scene framed by the camera based on the time spent on the persons inside, thus enabling the distinction between the most visited areas (hot spots) and those with less crowding (dead areas): On an image that represents the "background" of the scene framed by the camera, they are overprinted red areas to identify areas of large crowding, green and blue, to indicate progressively less crowded areas. AI-Occupancy allows the assessment of the occupation rate within one or more areas of interest. AI-Occupancy allows you to provide quantitative information, to match the quality offered by AI-Heat. AI-Heat and AI-Occupancy allow you to analyze your visitors' flows within a business, giving to the retailer the opportunity to distinguish the most interesting and less attractive products, as well as the typical visitors' paths inside the sales area.
AI-Crowd becomes AI-Overcrowd when you need to generate an alarm if the number of people in one area is too high: too many people waiting to checkout actually means very high waiting time. That turns into a low level of customer satisfaction, they might decide not to go back to that store because the only time spent waiting to checkout.
AI-Occupancy turns instead in AI-Overoccupancy when it is necessary to generate an alarm in the case where the percentage of occupancy within an area is higher (or lower) than a certain threshold.
Six different video analysis plugins that can be combined and installed together (even on the same camera) in a single bundle, that's AI-Retail. Six in one. A single camera to meet all your needs.
Often information about people count alone is not enough. The retailer fact for knowing the type of customer who crowd its sales area. AI-Bio responds to this need. This fact is the video analysis plugin that allows you to estimate the gender and the age of the people framed by the camera range. Data obtained from AI Bio about the type of customer (eg young woman, child, adult man, etc.) can also be processed and used to allow the personalization of Digital Signage advertising content. A single plugin for multiple purposes.
A.I.Tech's video analysis solution does not only monitor people but also vehicles. In fact, AI-Road makes it possible to count and classify vehicles, both in indoor environments (such as car parks or covered garages) and outdoor (roads, highways) ones. Because people are not the only "important" objects within a sales area. Linking the number of people involved with the number (and type) of parked cars is in fact another element that allows the retailer to get information on the type of customers that crowds the sales area.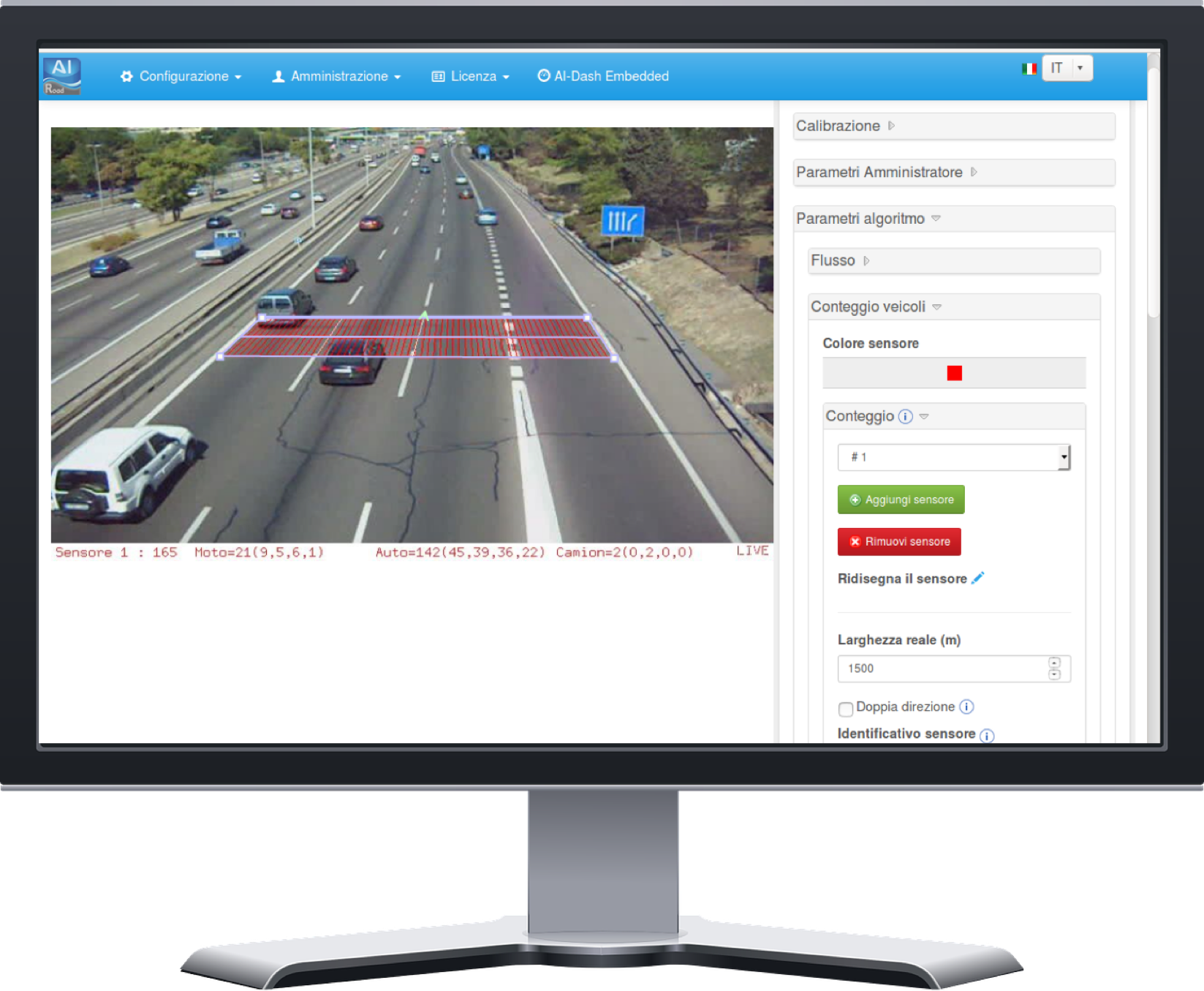 But it is said that "power is nothing without control". Therefore AITech, as well as put on the field the power of 8 different video analytics plugin, offers its customers AI-Dash, an interactive dashboard that allows you to always have one click away statistical data related to customers who crowd the sales area. That's the way we control that power.
AI-Dash is available as an application to install on a client server, as a cloud solution, and also as a built-in solution directly with the camera, in the DASH version of the products. AI-Dash lets you create a variety of charts to support your business intelligence and then evaluate the impact of sales strategies on customers, customizing promotional campaigns based on the particular type of customer that flips the sales area .
AI-Dash is completed with AI-Dash mobile, a mobile app (which can be downloaded from the iOS and Android device store)
AI-Dash is completed with AI-Dash mobile, a mobile app (which can be downloaded from the iOS and Android device store)A non-negligible aspect of A.I.Tech's solutions is also related to privacy. All video analytics plugins, as well as the dashboard, are in fact compliant with existing privacy standards: AITech's advanced computer vision, pattern recognition, and machine learning algorithms are capable of counting or analyzing faces framed by the camera, analyzing them and recognizing their gender and age range. All this directly on the camera, without the need to store or even transfer any kind of sensitive data (such as the person's face) to the network. In fact, the only data that is being managed and stored in the dashboard (whether on the camera, on the cloud, or on the client server) is the non-sensitive gender and age group of a subject that is not in no way can be attributed to any specific natural person. The only exception is the AI-Heat Plugin: in this case, there is a need to transfer the image. This, however, will not contain any person moving in the scene, but will represent the so-called "background", that is, a representation of the scene without any object present. Again, therefore, everything is privacy compliant.
The technologies
All the A.I.Tech plugins are available in three different version:
Edge: it provides the use of cameras that support third-party software, greatly reducing the network load. In fact, the camera sends only events of interest (such as face detection) to external servers, not the entire video stream.
Embedded: provided as AI-Appliance, an integrated hardware and software solution. AI-Appliance contains, in a small box, both hardware and software components. Plug-and-play solution, accessible through a simple and intuitive web interface, AI-Appliance enables up to 6 different video analysis capabilities (from people counting, crowding estimation, heatmap to queue management, biometric analysis). Large 9 cm x 7.1 cm x 6.2 cm, CE / RoHS certified, AI-Appliance comes with power supply (9-28 Vdc) and DIN rail housing; relays and open collector activated by the video analytics plugin; Analog and digital inputs capable of activating and deactivating the video analytics plugin.
Server: it uses a Linux operating system. This solution is predisposed for all network cameras that support RTSP video streams. The application allows you to process up to 1 video stream 4CIF @ 10fps per core on Intel I7 CPUs.
For more information:
To find out A.I.Tech's video analysis solutions, please visit our stand at FIERA SICUREZZA (STAND K05, PAD 05) in Milan, from 15 to 17 November 2017.