AI-Bio, the video analysis plugin of A.I. Tech for age and gender estimation is now available edge side, integrated exclusively on Hanwha Techwin's Wisenet X series cameras.
Retailers today are not content with the only information about the number of people bucking their sales area, but want to know more: how many men, how many women? What is the age group that is attracted most within the sales area? And what in that specific exhibitor? How long do people stand in front of the shelf, in front of the showcase or in front of the monitor?
It is therefore a fundamental retailer tool to provide a smart solution that can automatically provide the data it needs.
A.I. Tech, utilizing the process and analysis capability of the Wisenet 5 chipset developed by Hanwha Techwin, has made available AI-Bio: a plug-in that can be installed exclusively on the Wisenet X Series chassis, thus providing a completely Plug & Play, edge-side and reliable solution.
AI-Bio can be used for business intelligence analysis, in order to provide retailers, to marketing and merchandising departments not only information about the influx of customers in the store, but also the type of customer, divided by gender and age. Data obtained by AI Bio about the type of customer (eg young woman, child, adult man, etc.) can also be processed and used to allow the personalization of the Digital Signage advertising content to be displayed to customers.
AI-Bio is completed with AI-Dash, the interactive dashboard of A.I. Tech that allows you to have the statistical data about the type of customers that crowds your sales area. AI-Dash is available as an application to be installed on a client server, as a cloud solution and integrated directly into the AI-Bio-DASH version. AI-Dash lets you create a variety of charts to support your business intelligence and then evaluate the impact of sales strategies on customers, customizing promotional campaigns based on the particular type of customer that flips the sales area.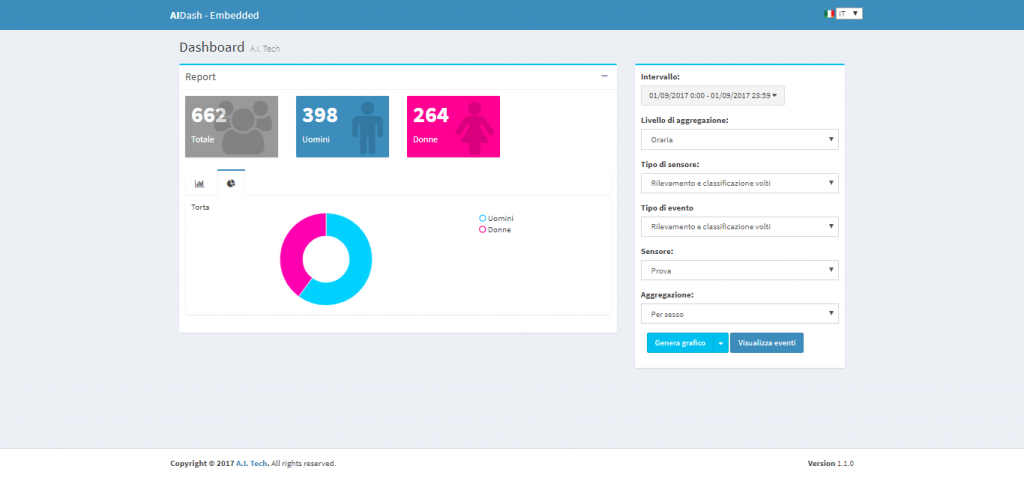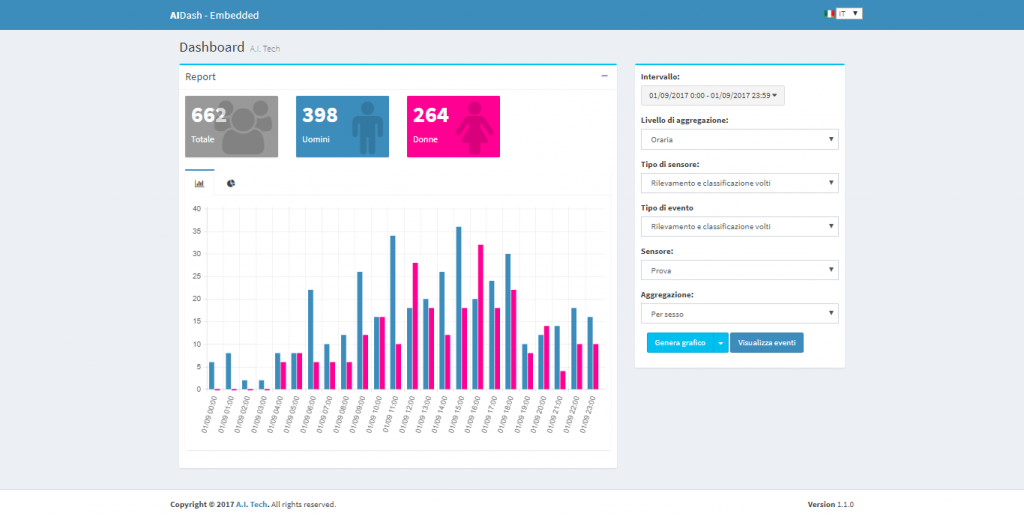 AI-Bio's non-negligible aspect is compliance with existing privacy standards: AITech's advanced computer vision, pattern recognition and machine learning algorithms are able to detect faces framed by the camera, analyze them and recognize their gender and age group. All this directly on camera without the need to store or even transfer any kind of sensitive data (such as the person's face) to the network. In fact, the only data that is being managed and stored in the dashboard (whether on the camera, on the cloud, or on the client server) is the non-sensitive gender and age group of a subject that is not in no way can be attributed to any specific natural person.